World premiere of a high-realist portrait of the Cross River gorilla
Vancouver, BC, Canada 'Äì The first ever painting of a Cross River gorilla, Africa' most endangered primate, will be unveiled to the public for the first time on 19 October 2008, at the Mountain View Conservation and Breeding Centre, in Langley, BC, Canada.
The author of this unique portrait is Canadian artist Daniel Taylor, who travelled along with his wife Ginette to the jungle of south-western Cameroon' Lebialem Highlands, to learn more about this critically endangered species with only 250 to 300 individuals left in the wild.
In 2007, an Artists for Conservation (AFC) Flag Expedition was organized through a partnership with the African Conservation Foundation (ACF), whose overall goal is to change the use of natural resources to one in which the needs of human development in the region are reconciled with biodiversity conservation.
Besides the unveiling of the painting the event at the Mountain View Conservation and Breeding Centre will feature a short film about this unique expedition, a silent auction (including an African Safari) & more!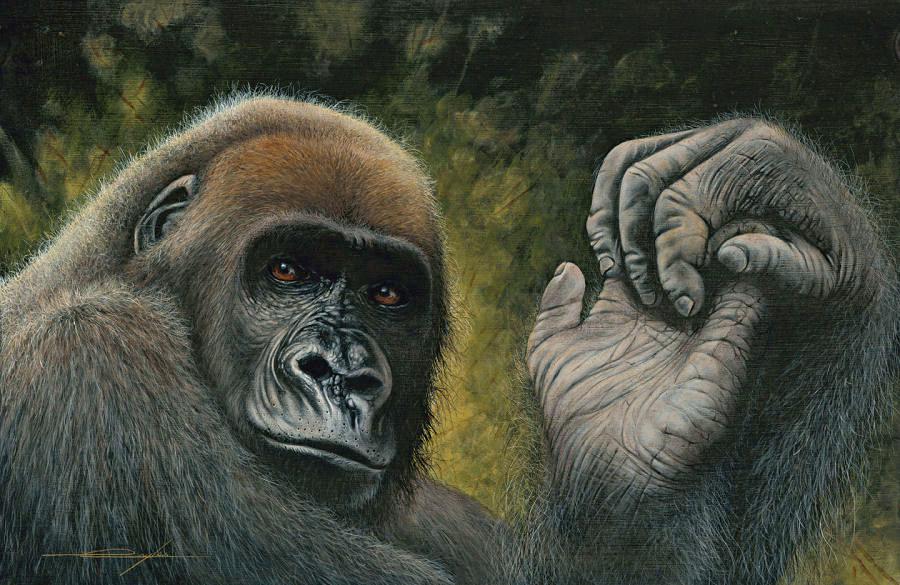 Prints of the Cross River gorilla painting will cost $250 each and will be for sale on site or through the Art for Africa website (www.art-for-africa.net), with 80 per cent of the proceeds going towards the efforts to save the Cross River gorilla and its habitat.
A multifaceted conservation project
The money raised with the prints sales will be used to create protected areas for the Cross River gorilla and help the local communities set up alternative income generating activities by providing microcredit to villagers.
Hunters and former poachers will be paid to use their thorough knowledge of the area to become field workers, eco-tourism guides and rangers. The community will be encouraged to breed cane rats and porcupines for food, thus reducing the demand for bush meat.
"Tree planting, ecotourism and cultivating plants for medicine, nutrition and fuel are also part of the strategy to reconcile local community needs and great apes conservation", said Arend de Haas, Conservation Director of the African Conservation Foundation.
Environmental education is a pivotal aspect of the whole project and it is directed both towards children who will be part of the solution in the immediate future and towards other community members. As a result, local fons (kings), chiefs and government officials show a great interest in making a positive change.
—-
About Daniel Taylor
Daniel Taylor is a self-taught artist, internationally renowned for his expressive portraits and wildlife paintings in oil and acrylic. His work has been displayed in countries such as Australia, Canada, England, Japan and the USA, where a permanent exhibition of his art is on display at the JFK Center for Performing Arts, in Washington DC.
Born in Vancouver, British Columbia, Canada, Daniel Taylor has spent most of his professional life using art to promote causes, having donated proceedings of his work to the Leukemia and Diabetes Societies and, most recently, to the African Conservation Foundation.
More information can be found at the following websites:
www.artsavingwildlife.com
www.africanconservation.org