Volunteer Saving Cross River Gorillas and Chimpanzees in Cameroon
Spend two or more weeks volunteering on conservation projects saving these great apes from extinction
The Cross River gorilla could become extinct within 10 years, unless we act now. Volunteering on this conservation project in Cameroon will take you to work on the frontline of conservation, taking part in surveys of the montane rainforests – some of which have never been surveyed before – and in community education and awareness-raising activities.
South West Cameroon harbours two of the most threatened African great apes: the critically endangered Cross River gorilla – the rarest of the gorilla sub-species with 250-300 individuals left in the wild – and the Nigeria-Cameroon chimpanzee – also the most endangered chimpanzee subspecies in Africa. They are both keystone species in the montane forest ecosystems of the border region of Nigeria and Cameroon.
#77 in National Geographic 100 Places That Will Change Your Life
Join a 2 or 4-week expedition that gives volunteers the chance to work as part of an award-winning team, protecting Africa's most endangered great apes through direct action. Longer stays are possible.
How to Apply?
PLEASE NOTE: Due to the Anglophone crisis, we can currently not accept volunteers for this programme unfortunately.
Click here for other gorilla volunteer projects:
Deng Deng National Park
To reserve your place on this expedition, please send us an email with your name and contact details (email), dates and duration of interest and we will send you an application form as soon as possible. A (non-refundable) US$150 deposit is required to hold your place.
Enquire Now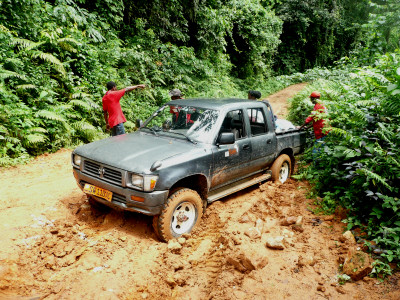 Highlights
Helping to conserve Cross River Gorillas and chimpanzees;
Working with local researchers and rangers;
Participating in great apes surveys;
Checking camera traps, learning to work with GPS receivers;
Environmental education activities at primary and secondary schools;
Being immersed in the indigenous communities of the highland rainforest;
Meeting with local kings, chiefs, teachers and children;
Visiting Limbe Wildlife Centre;
Experiencing a unique and authentic African rainforest expedition.
The expedition will focus on great apes surveys and education and awareness raising activities. Each survey period generally will last two-four weeks (with breaks every three-five days) – the sampling design of which will be established prior to the start of the surveys. Former local hunters have been employed by the project to serve as field guides. Your life during the surveys will be nomadic, breaking camp each day to move to the next site – with the help of field guides and porters. You'll cover steep slopes, sometimes making for extreme hiking and trekking, as you follow family groups of gorillas and chimpanzees. You'll look for animals and nest sites, signs of feeding and habitat use, documenting observations through photography and GPS coordinates. You may encounter other endangered primates and hundreds of bird species and other wildlife.
The project language is English, and you'll receive field training in scientific survey techniques and GPS tracking and mapping.
Education and awareness raising will form a key part of this expedition. Changing the attitudes towards great apes and improving empathetic relationships between children and wildlife is a prerequisite to sustainable co-existence and the protection of apes.
Country: Cameroon
Age Range: 18-70
Group Size: 2-10 people, including staff.
Languages: English, French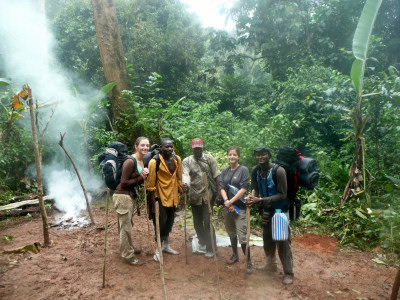 Location
The Lebialem Highlands are a six-hour drive from the coastal town of Limbe in the South West Province of Cameroon. The Cross-Sanaga-Bioko Coastal Forests ecoregion supports one of the highest rates of animal species richness in Africa, especially in terms of forest-restricted mammals, birds and butterflies.
The Lebialem Highlands of which Bechati-Lebialem forest is part is also part of this eco-region are especially rich in endemic biodiversity species. Over 355 bird species have been recorded, among which 50 species are endemic to the afro-montane highlands and 15 species are globally threatened. The low to mid-level elevation is home to endangered primates as the Drills (Mandrillus leucophaeus) and the Preuss guenon (Cercopithecus preussi).[
Field Conditions
You will stay in local hostels while in town and in bushcamps in the field. The local conditions are very basic and the terrain is very though, with steep slopes. Temperatures and humidity are high. The expedition will involve camping in two man tents. There will be no electricity and no toilets. Meals will be provided two times a day while in the field. Generally they are very basic.
Qualifications
Qualifications Required
Expedition Members must be highly motivated and physically fit as the environment is very demanding. Some trekking and climbing experience would be an advantage. The local climate is hot and humid; temperatures are ranging from 25-40°C. It is important that expedition members can work as a team and assist the local staff in the daily tasks.
Skills gained
Volunteers should expect to gain exposure to current fieldwork and processes and the working methods of small independent NGOs. The focus is to provide volunteers with the opportunity to assist in research projects, great apes surveys and attend workshops and meetings with local communities and schools. Training will be provided in great apes surveys and biodiversity monitoring, use of GPS and navigation tools, data collection, and environmental education.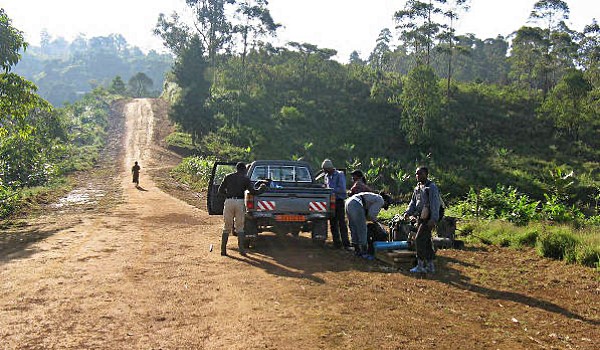 Dates & Costs
PLEASE NOTE: Unfortunately we can currently not accept volunteers due to the Anglophone crisis in South West Cameroon.
Weeks: US$1,650
4 Weeks: US$2,350
6 Weeks: US$3,150
8 Weeks: US$3,950
3 Months: US$5,350
Students will receive a 20% discount!
Are you interested in staying longer? Please send us an email for more information.
Testimonials
"I enjoyed every moment of the rainforest experience. The field guide is an amazing trekker and teacher. We learned about the different animals' trees and fruits in the forest. My favorite part – the tour of the forest fruits that we could eat. Thank you for the experience, I will definitely do it again." — Nontle (South Africa)
"All my expectations have been met entirely, actually exceeded. It was a very challenging experience and I am happy it was so successful. I now better understand the threats the Apes are under and the urgent need of a sanctuary and full protection." — Cinzia (Australia)
"Suddenly, I perceived some slight motion below and looked to see a long, furry arm reaching up and then a naked, human-like face about 15 metres away. Chimpanzees!! The leader moved forward … He didn't see me at first but after only a few seconds, as I was watching through my binoculars, his senses, shaped and modified by natural selection, picked up my presence. And then something remarkable happened. When his eyes first met mine, a look of confusion passed over his face. He was puzzled at what it was he was looking at. Moments later, he moved off but only a short distance whereupon he turned around and looked back at me again … It was no doubt the first time he'd seen a white person and he didn't know what to make of it." — Michael (USA)
"I came to Cameroon with the expectation of broadening my mental horizon by understanding a culture which was entirely different from mine. With my background in biology and ecology, I can say the science component was simply a bonus. I can without hesitation say that all of my expectations were met and the experience I gained from my volunteering term is truly indispensable." — Alyssa (USA)
"The atmosphere was great at the campsite: we were a good team! It is important that you can get along with each other when you're living so close together. With Solomo and Edwin, and the other volunteers Greg, Jamie and Anja we were a nice little family away from the rest of the world. The food was simple but good. You are always hungry when you're living outside." — Bernard (Holland)
"We were very quiet, walking up hill, tracing the apes, stopping and recording information as the needs arise. Then the exciting moment; we saw monkeys, got very close to chimpanzees and actually saw them shaking the branches responding to our presence. There was one occasion when we actually got footsteps in the forest and thought it was a person. We went to find out what was happening but could only see fresh banana peelings indicating that the foot steps were those of a gorilla. This was really exciting" — John (UK)
"I saw elephants, heard the vocalization of chimpanzees and gorillas-fresh tracks and nests of gorillas and Chimpanzee during my stay in the forest. It was a fantastic experience and I am so happy to have lived those moments" — Hanna-Maija (Finland)
"My heart would pound with excitement each time we found signs that a gorilla had feasted on a plantain plant or that the chimpanzees had arranged beds of leaves. Perhaps my primate friends were nearby? We heard the chimps throwing stones and vocalizing to each other many times. Once, while we sat quietly, we heard a cross-river gorilla walk near pounding his chest" — Daniel Cohen (Switzerland)
"We were standing on a farm and our field guide went to record feeding signs and saw two gorillas. He signaled us and we went closer to where he was but the gorillas heard as we were approaching and went away. The other volunteers were not able to see them but I saw one of them for a short time … It was amazing!" — Jonas (Germany)