Volunteer Saving Cross River Gorillas and Chimpanzees in Cameroon
Help out first hand!
Spend two or more weeks volunteering on conservation projects saving these great apes from extinction
The Cross River gorilla could become extinct within 10 years, unless we act now. Volunteering on this conservation project in Cameroon will take you to work on the frontline of conservation, taking part in surveys of the montane rainforests – some of which have never been surveyed before – and in community education and awareness-raising activities.
South West Cameroon harbours two of the most threatened African great apes: the critically endangered Cross River gorilla – the rarest of the gorilla sub-species with 250-300 individuals left in the wild – and the Nigeria-Cameroon chimpanzee – also the most endangered chimpanzee subspecies in Africa. They are both keystone species in the montane forest ecosystems of the border region of Nigeria and Cameroon.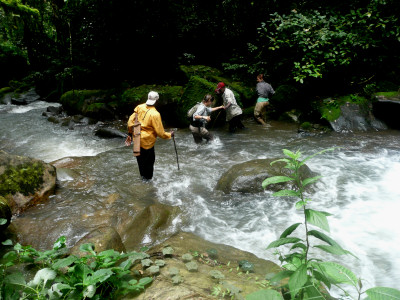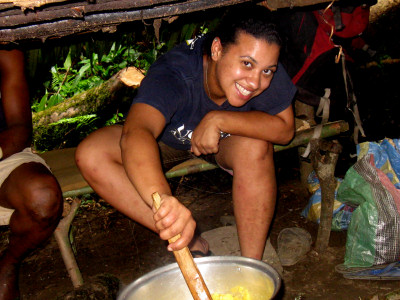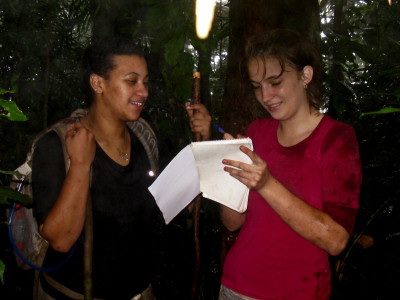 Join a 2 or 4-week expedition that gives volunteers the chance to work as part of an award-winning team, protecting Africa's most endangered great apes through direct action.
Activities
The expedition will focus on great apes surveys and education and awareness raising activities. Each survey period generally will last two-four weeks (with breaks every three-five days) – the sampling design of which will be established prior to the start of the surveys. Former local hunters have been employed by the project to serve as field guides. Your life during the surveys will be nomadic, breaking camp each day to move to the next site – with the help of field guides and porters. You'll cover steep slopes, sometimes making for extreme hiking and trekking, as you follow family groups of gorillas and chimpanzees. You'll look for animals and nest sites, signs of feeding and habitat use, documenting observations through photography and GPS coordinates. You may encounter other endangered primates and hundreds of bird species and other wildlife. The project language is English, and you'll receive field training in scientific survey techniques and GPS tracking and mapping.
Education and awareness raising will form a key part of this expedition. Changing the attitudes towards great apes and improving empathetic relationships between children and wildlife is a prerequisite to sustainable co-existence and the protection of apes.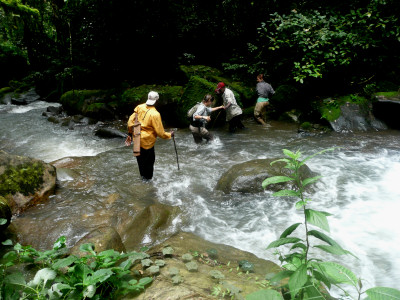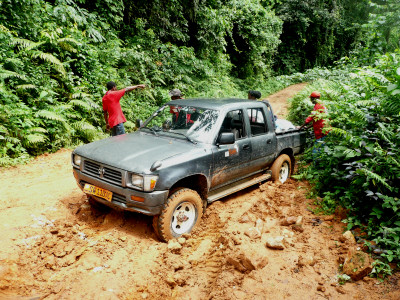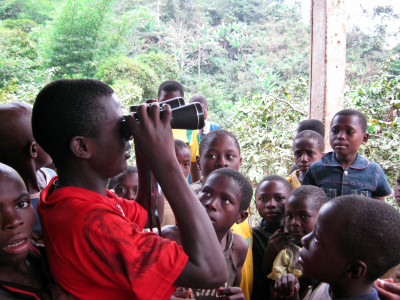 Location
The Lebialem Highlands are a six-hour drive from the coastal town of Limbe in the South West Province of Cameroon. The Cross-Sanaga-Bioko Coastal Forests ecoregion supports one of the highest rates of animal species richness in Africa, especially in terms of forest-restricted mammals, birds and butterflies. The Lebialem Highlands of which Bechati-Lebialem forest is part is also part of this eco-region are especially rich in endemic biodiversity species. Over 355 bird species have been recorded, among which 50 species are endemic to the afro-montane highlands and 15 species are globally threatened. The low to mid-level elevation is home to endangered primates as the Drills (Mandrillus leucophaeus) and the Preuss guenon (Cercopithecus preussi).
What difference does this project make?
Identified threats to the survival of gorillas, chimpanzees and other primates in the Lebialem Highlands are agricultural encroachment (the conversion of forest habitats to farms and plantations), commercial logging, habitat and great ape population fragmentation due to settlements and roads, and most especially hunting, trapping and the illegal trade of bush meat. There is an urgent need to complete the assessment of the distribution of great apes as well as the threats and opportunities for their conservation.
Currently the project is establishing the first community wildlife and forest reserves, conducting environmental education activities and setting up reforestation projects. The project is also developing income generating opportunities such as bushmeat farming with the local villagers, in order to curb bushmeat hunting and provide the villagers with a sustainable source of protein.
Field Conditions
You will stay in local hostels while in town and in bushcamps in the field. The local conditions are very basic and the terrain is very though, with steep slopes. Temperatures and humidity are high. The expedition will involve camping in two man tents. There will be no electricity and no toilets. Meals will be provided two times a day while in the field. Generally they are very basic.
Qualifications
Qualifications Required
Expedition Members must be highly motivated and physically fit as the environment is very demanding. Some trekking and climbing experience would be an advantage. The local climate is hot and humid; temperatures are ranging from 25-40°C. It is important that expedition members can work as a team and assist the local staff in the daily tasks.
Skills gained
Volunteers should expect to gain exposure to current fieldwork and processes and the working methods of small independent NGOs. The focus is to provide volunteers with the opportunity to assist in research projects, great apes surveys and attend workshops and meetings with local communities and schools. Training will be provided in great apes surveys and biodiversity monitoring, use of GPS and navigation tools, data collection, and environmental education.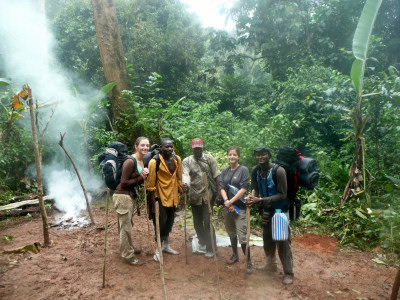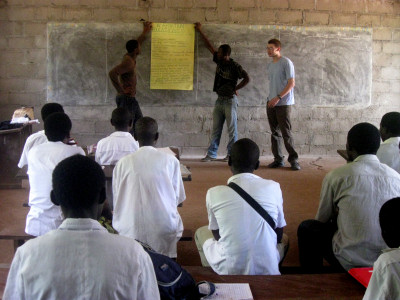 Dates and Costs
Costs
2 Weeks: US$1,650
4 Weeks: US$2,350
6 Weeks: US$3,150
8 Weeks: US$3,950
3 Months: US$5,350
Students receive 20% discount!
Are you interested in staying longer? Please send us an email for more information.Dates 2018
2 WEEKS
BOOKING CODE

ARRIVAL DATE

DEPARTURE DATE

REMARK

AE2W1801
Saturday
6th January
Sunday
21st January
Dry Season
AE2W1802
Saturday
13th January
Sunday
28th January
AE2W1803
Saturday
3rd February
Sunday
18th February
Dry Season
AE2W1804
Saturday
10th February
Sunday
25th February
AE2W1805
Saturday
3th March
Sunday
18th March
Dry Season/ Dry-Rainy starts
AE2W1806
Saturday
10th March
Sunday
25th March
AE2W1807
Saturday
31st March
Sunday
15th April
Dry-Rainy
AE2W1808
Saturday
21st April
Sunday
6th May
AE2W1809
Saturday
12th May
Sunday
27st May
Dry-Rainy

JUNE. NO BOOKING

Heavy rainy season

JULY. NO BOOKING

AUGUST. NO BOOKING

SEPTEMBER. NO BOOKING

AE2W1810
Saturday
6th October
Sunday
21st October
Rainy-Dry season
AE2W1811
Saturday
13th October
Sunday
28th October
AE2W1812
Saturday
3rd November
Sunday
18th November
Dry Season
AE2W1813
Saturday
10th November
Sunday
25th November
AE2W1814
Saturday
1st December
Sunday
16th December
Dry Season

CHRISTMAS BREAK
2018 – 4 WEEKS
BOOKING CODE

ARRIVAL

DEPARTURE

REMARK

Month
Day
Month
Day
AE1M1801
January
Saturday
6th
February
Sunday
4th
Dry Season
AE1M1802
February
Saturday
3th
March
Sunday
4th
AE1M1803
March
Saturday
3rd
April
Sunday
1st
AE1M1804
April
Saturday
7th
May
Sunday
6th
Dry-Rainy Season
AE1M1805
May
Saturday
12th
June
Sunday
3rd
AE1M1806
September
Saturday
29th
October
Sunday
28th
Dry-Rainy Season/ Sometimes heavy
AE1M1807
November
Saturday
3rd
December
Sunday
2nd
Dry Season
AE1M1808
December
Saturday
8th
January
Sunday
6th
On Special Request
Longer stays? Please send us an email for more information!
What's included
Transport to and from the airport
2 nights accommodation in a hotel in Buea (1 night at arrival/1 night at dept)
Transport to and from field base
Local transportation
Food and water
Guides and Porters
What's not included
International Flights
Medical and Travel Insurance
Personal Kit
Inoculations and Medication
Visa (can range in price from $100-$120 USD.
Occasional meal out in town (ranging from $5-12)
F.A.Q.
Why should I have to pay to volunteer?
Volunteers are a key part of the project. Your hard work and enthusiasm are very much needed and appreciated by the local team and communities. However, we don't have the funds to subsidise volunteers, so we need your contributions to cover the costs of the programme activities. This includes meals, equipment, local staff and transport, program materials, the services of a trained expedition leader, on-site coordination and development of the programme and administrative costs. Your volunteer contribution also helps to create local jobs in an area where there are virtually no paid jobs available – and to create and maintain new reserves to protect the great apes populations.
Will someone meet me at the airport?
Yes, please send your flight itinerary to ACF at least two weeks in advance of the expedition start date. An ACF or ERUDeF staff person or representative will meet you in the public area outside Customs and bring you to your hotel.
What should I do if my flight is delayed?
Please notify ACF as soon as possible and confirm your new arrival times so the expedition leader can arrange your transportation.
What should I do if I arrive before the scheduled arrival date?
If you choose to spend time in-country before the expedition begins, please plan to meet your team at the designated airport or hotel within the specified arrival window on the first day of the program in order to be transported to the local office and the field sites.
How do volunteers stay involved once back home?
In the last few years, volunteers have expressed a strong desire to stay connected with the project and continue to support local activities once they return home. Sharing the excitement of new insights and perspectives is an important part of your experience. Raising local and international awareness raising for the plight of endangered species is very helpful and we need your help to recruit others to join future expeditions. Volunteers and interested people can link to our Facebook Page http://www.facebook.com/crossrivergorillas

Specifications
Country: Cameroon
Age Range: 18-70
Group Size: 2-10 people, including staff.
Languages: English, French
Testimonials
"I enjoyed every moment of the rainforest experience. The field guide is an amazing trekker and teacher. We learned about the different animals' trees and fruits in the forest. My favorite part – the tour of the forest fruits that we could eat. Thank you for the experience I will definitely do it again." — Nontle (South Africa)
"All my expectations have been met entirely, actually exceeded. It was a very challenging experience and I am happy it was so successful. I now better understand the threats the Apes are under and the urgent need of a sanctuary and full protection." — Cinzia (Australia)
"Suddenly, I perceived some slight motion below and looked to see a long, furry arm reaching up and then a naked, human-like face about 15 metres away. Chimpanzees!! The leader moved forward … He didn't see me at first but after only a few seconds, as I was watching through my binoculars, his senses, shaped and modified by natural selection, picked up my presence. And then something remarkable happened. When his eyes first met mine, a look of confusion passed over his face. He was puzzled at what it was he was looking at. Moments later, he moved off but only a short distance whereupon he turned around and looked back at me again … It was no doubt the first time he'd seen a white person and he didn't know what to make of it." — Michael (USA)
"I came to Cameroon with the expectation of broadening my mental horizon by understanding a culture which was entirely different from mine. With my background in biology and ecology, I can say the science component was simply a bonus. I can without hesitation say that all of my expectations were met and the experience I gained from my volunteering term is truly indispensable." — Alyssa (USA)
"The atmosphere was great at the campsite: we were a good team! It is important that you can get along with each other when you're living so close together. With Solomo and Edwin, and the other volunteers Greg, Jamie and Anja we were a nice little family away from the rest of the world. The food was simple but good. You are always hungry when you're living outside." — Bernard (Holland)
"We were very quiet, walking up hill, tracing the apes, stopping and recording information as the needs arise. Then the exciting moment; we saw monkeys, got very close to chimpanzees and actually saw them shaking the branches responding to our presence. There was one occasion when we actually got footsteps in the forest and thought it was a person. We went to find out what was happening but could only see fresh banana peelings indicating that the foot steps were those of a gorilla. This was really exciting" — John (UK)
"I saw elephants, heard the vocalization of chimpanzees and gorillas-fresh tracks and nests of gorillas and Chimpanzee during my stay in the forest. It was a fantastic experience and I am so happy to have lived those moments" — Hanna-Maija (Finland)
"My heart would pound with excitement each time we found signs that a gorilla had feasted on a plantain plant or that the chimpanzees had arranged beds of leaves. Perhaps my primate friends were nearby? We heard the chimps throwing stones and vocalizing to each other many times.  Once, while we sat quietly, we heard a cross-river gorilla walk near pounding his chest" — Daniel Cohen (Switzerland)
"We were standing on a farm and our field guide went to record feeding signs and saw two gorillas. He signaled us and we went closer to where he was but the gorillas heard as we were approaching and went away. The other volunteers were not able to see them but I saw one of them for a short time … It was amazing!" — Jonas (Germany)